Meet Our Students
MFA Students
Sarah Brockhaus is a first-year MFA candidate in poetry at LSU. She grew up in Omaha, Nebraska, and graduated from Salisbury University in Maryland with a B.A. in English. She is blog editor for The Shore Poetry and a reader for Poet Lore. She is a two-time Best of the Net nominee and her poems can be found in places such as Sugar House Review, North American Review, Tupelo Quarterly, New South, and Cider Press Review.

Kyler Patrick Carter (he/him) is a writer, director, and producer from modest New Jersey. A spinner of stories from the moment he could string together sentences, Kyler's writing investigates bodies, religion, transition, and what we do with the passage of time. He graduated from Pace University with his BA in Sociology-Anthropology, and is now pursuing his MFA in Creative Writing from Louisiana State University. When he isn't on the phone with family or scribbling in a notebook, he can be found curled up with thick socks and a good book.
Šari Dale is a first-year MFA candidate from a resource town in Northern Canada. She received her BA in English & Creative Writing from the University of British Columbia Okanagan and has been copywriting + creating websites since. Her interests include moose, monster trucks, and reality TV. Šari's work has been published in Event, The Malahat Review, and Grain among others. Her first collection of poetry, Para-Social Butterfly, was released with Metatron Press in 2022.
Taylor Denton was born in Springfield, Missouri. She began writing short stories when she was in middle school, publishing her first poem at age thirteen. A graduate of the University of Colorado Boulder with a BA in English, she is now working towards her MFA at Louisiana State University in Baton Rouge. You can find Taylor's creative work in several journals, including Coffin Bell, the Anti-Languorous Project, and Scribble. Her novella, The Mountain, was published through Running Wild Press in 2019. Taylor's debut novel, Antlers of Bone, was published by Running Wild Press in 2022.
Nuha Fariha is a first-generation Bangladeshi American writer. She is currently earning her Master of Fine Arts in Creative Writing at Louisiana State University. Her work has been published in MAGMA, Thin Air, Stellium Literary, Roadrunner, and elsewhere. She is a 2023 Anaphora Arts Fellow, a 2023 Key West Writers Workshop Fellow, and a 2022 Juniper Summer Institute Workshop Fellow. Her first book, God Mornings Tiger Nights, will be released in August 2023 with GameOverBooks. You can learn more about Nuha at nuhawrites.com.
Xavier Hawkins is an incoming MFA candidate hailing from Hampton University, born in Memphis, TN. He is a poet with an affinity for flash fiction who focuses on relatability and capturing moments. He is a recipient of the United Negro College Fund's Mellon-Mays Research Fellowship and studies the relationship between music and literature (particularly within August Wilson's Pittsburgh Cycle plays). As a trombonist and melody enthusiast, he enjoys making music and playing with words. A few of his poems can be found in the Hampton Renaissance Literary Journal, and much more remains to come!
A first-year MFA candidate at LSU,
Caldwell Holden
is a writer, bartender, and social artist from Pittsburgh, Pennsylvania. He received his BA in Literature from Bennington College where he studied "Immersion Based Storytelling." He has also studied in Siena, Italy, completed a writing residency in Oatmeal Creek, TX, and traveled the US living out of his jeep. His fiction has appeared in
SHANTIH Journal
and is forthcoming in
Atticus Review
. His journalism has appeared in
90.5 WESA
and
Stylo24
. You can learn more about him and his work
here
.
Justin Howerton is a first-year MFA candidate primarily interested in poetry. Born and raised in Memphis, he received his BA from Lewis & Clark College in Oregon and promptly returned to the South. He writes about the pull of memory, sexuality, the lies we wish were true, and the magic of cars. His recent work can be found in The West Trade Review among other places.
Brett Hymel is a clay homunculus burdened with cognizance by process of alchemy. He was born (concocted) in Melbourne, Florida. He will die in an undisclosed location (scrying results inconclusive). Along the way he has made grave errors (majoring in philosophy, teaching in the public school system), but he has since made full recovery. Literary intrigues include the state of American education, the viscosity of cats, and figures of Cajun folklore. Mediums of interest are the novel and forms adjacent. Add him to mailing lists at bretthymel@gmail.com.
Kayla Jackson is a multi-medium visual artist, classically trained vocalist, emcee, writer, spoken word poet, and educator from New Orleans, Louisiana. Kayla received her Master's degree in English Literature from Tulane University, where she was the co-Founder and co-Captain of their slam poetry team, Rhyme Verses Rhythm, who placed 7th in the International Collegiate Union Poetry Slam Invitational (CUPSI) competition. Currently, Kayla is working toward her first music EP, her second collection of poetry and is attending Louisiana State University as a Creative Writing MFA candidate.
A native of Louisiana, Matty Carville Joel is a MFA candidate at LSU, with a focus on creative nonfiction. A graduate of Hobart and William Smith Colleges, Matty has worked for the Seneca Review, LSU Press, and The Southern Review and served as a speechwriter in the Mayor's Office at New Orleans City Hall. Since 2018, Matty has also served nationwide as a certified full spectrum doula, childbirth educator, and advocate for accessible, comprehensive reproductive healthcare for all. In her free time, Matty is an avid aquarist and lives with her husband, two dogs and cat in Baton Rouge. You can reach her anytime at mattycarvillejoel@gmail.com.
Jalen Jones is a Creole, Black and Filipino American writer from Los Angeles. His prose and poetry explores the surrealist condition of living in America as a person of color. Like all Californians, Jalen has had his fair share of celebrity sightings. He has worked at the Oscars, directed an Emmy Award winning PSA, and once, Emma Stone generously stepped on his foot. He is also a staff writer for Mixed Asian Media. Jalen's creative work has been published by Geez and Rainy Day Magazine. He graduated from the University of California, Irvine, and this is his first year in Louisiana State University's MFA program. You can contact him through email at jalenjones@yahoo.com
Erin Little
is a third-year MFA candidate in poetry. After graduating with a B.A. in English from Loyola University New Orleans in 2015, she moved to New York to pursue a career in publishing. Over six years Erin worked as an editorial assistant for Columbia University Press, Routledge Research, and Penguin Random House. Her poems and essays have appeared in
Chestnut Review
,
Hobart After Dark
,
Juxtaprose Magazine
,
New Orleans Review
,
Pembroke Magazine
, and
trampset
.
Parker Logan has a BA in English from Florida State University and is currently pursuing an MFA in creative writing, here, at Louisiana State University. His work is concerned with the south, labor, sexuality, sometimes, identity, most of the time, and self-care, all the time. In his free time, Parker is writing golden shovel poems to his friends and growing watermelons in their poetry garden, too.
Halley McArn is an MFA candidate at Louisiana State University with a focus on creative nonfiction. Originally from the northeast, she worked for several years as a caseworker and database designer for education nonprofits. She's served as the Nonfiction Editor for the New Delta Review and as an editorial assistant at Speculative Nonfiction. You can find her work in Bright Wall/Dark Room.
Bunny Morris is a second-year MFA candidate in poetry at LSU. He is a trans multimedia artist born and raised in Louisville, KY. Its work revolves around eroticism, gender, and the disintegrating boundaries between pain and pleasure. His recent work can be found in Red Noise Collective, SELFFUCK Magazine, and Anti-Heroin Chic. If you're interested in reading about sex work and fish, check out his chapbook A Performance of My Ecstasy (Gap Riot Press 2020). Otherwise, he's talking about video games.
Emilie Rodriguez is an MFA candidate in Fiction and the former Editor-in-Chief of New Delta Review. A Latinx writer from San Diego, CA, she earned her B.A. from UC Davis. Emilie is focused on writing stories that explore family dynamics and personal identity within the Latinx community. Her favorite spaces to write about are the magical, the real, the fantastical, the painful, and everything in between. Which is another way of saying anything is game.
Sunny Rosen is an MFA candidate in fiction who loves to write on the borderline of speculative and literary. Originally from Newark, Delaware, she lived in New Zealand and Florida before landing in Baton Rouge. Her work has appeared in outlets like Taco Bell Quarterly and The Huffington Post, and she has won an Elda Wollaeger Gregory Poetry Award and a David Madden MFA Award for Fiction. Sunny also works as a copywriter and publicity coordinator for LSU Press and The Southern Review, and she serves as the fiction editor of New Delta Review.
Zach Shultz is a third-year MFA candidate in Creative Writing at Louisiana State University. He has served as nonfiction editor for New Delta Review and editorial assistant for The Southern Review. He is a 2019 Lambda Literary nonfiction fellow and a 2022 Indiana University Writers' Conference fiction fellow. Before LSU, he worked for many years as a paralegal for immigration lawyers in New York City. Zach holds a BA in Spanish and Sociology from the University of Kentucky and an MA in Latin American Studies from Tulane University. His work has appeared in Lit Hub, Electric Literature, The Los Angeles Review of Books, The Rumpus, and elsewhere.
Brooke Stanish is a writer from Sunrise, Florida and an MFA candidate at Louisiana State University. She writes poetry and fiction that engage with the terrains of memory, philosophy, and the inner life, exploring the ways in which language and art can provide embodied encounters with meaning. Her poems, stories, and essays can be found in America, The Windhover, Time of Singing, Cantos, Living Waters Review, and other publications.
Rose Torres is a second-year MFA candidate at LSU, with a focus on poetry. A graduate of the University of Texas at Austin, Rose previously worked at UT's University Writing Center, assisting undergraduate students in developing their high-order thinking, grammar, formatting, and overall voice. Her writing focuses on memorializing mundane moments and exploring how it feels to be a young Latina who has many unanswered questions. She enjoys green tea.
Alejandra Vansant grew up on the Eastern Shore of Virginia and is a graduate of the University of Virginia. She enjoys poetry, quilting, and walking around.
Postdocs
an chang joon was born in Seoul, Korea, but raised somewhere between Uzbekistan, Korea, and the eastern coast of the United States. His writing explores borders, not as a flat line, but as a liminal space of their own. He is never entirely sure how to navigate between his two-and-a-half names. His prose can be found on Barnstorm and Blue Earth Review and was the runner-up for the Gulf Coast Review's 2022 Fiction Contest. an chang joon has an upcoming essay with Atticus Review, and his essay was the runner-up for Columbia Journal's 2020 Winter Contest. He is the Korean translator for Nellie Hermann's novel, The Season of Migration.
Jami Kleinpeter is a writer out of South Louisiana, with a wide range of writing interests such as screenwriting, poetry, and critical prose. Currently,she is a teacher at Louisiana State University, where she is an MFA candidate in Creative Writing, specializing in poetry. She was the co-director of the reading series Underpass and has served the last two years on the committee of the English Graduate Student Association. Her published work can be found in the Oakland Art Review.
Ian U Lockaby
is the author of "Defensible Space/if a crow—" (Omnidawn) and "A Seam of Electricity" (Ghost Proposal). He is the translator of "Gardens," by Chilean poet Carlos Cociña (Cardboard House Press) and his work has been/will be published in journals such as
Fence, Poetry Northwest, Bennington Review, Denver Quarterly, Black Warrior Review
, and
Poetry Daily
. He edits the online journal
mercury firs
, and with fahima ife, co-edits the forthcoming journal LUCIUS.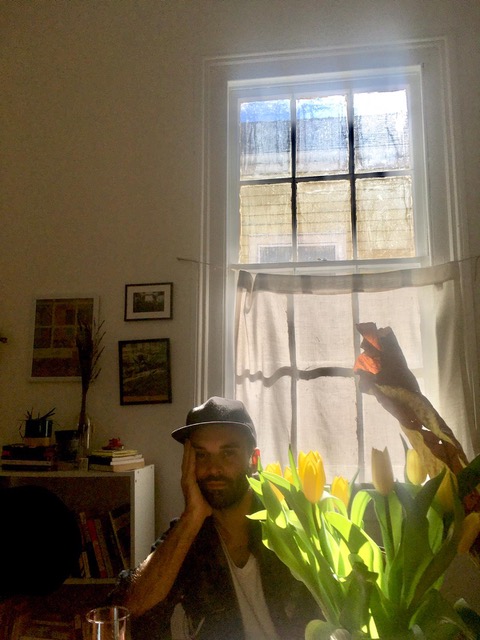 penda mbaye z. smith is a Senegalese American writer, educator, and scholar whose work explores the role of pleasure in the search for and movement toward Black liberation. She has received support from the Watering Hole, Sun Valley Writers Conference, and Cave Canem fellowship. Her work has been featured in Huffington Post, Muzzle Magazine, Interim Poetics, Root Work Journal, and more. penda teaches English at Louisiana State University. She enjoys napping.